As Christmas break approaches, you might be looking for ways to keep the kids busy. Restless children are the last thing you want on your hands. So why not make some DIY ornaments together?
Making ornaments is fun and you can hang the results on the tree for years. You'll get to spend time together while keeping little hands busy. In this post, we've selected ten simple DIY ornaments you can make in an afternoon with supplies found at most craft stores.
Fingerprint Wood Slice Ornaments
Wood slices are fun to paint and make great ornaments. Using their fingerprints, kids can make designs like snowmen or reindeer. Then add finishing touches with a marker.
No-Cook Cinnamon Ornaments
Cinnamon dough is simple to mix and dries within a few hours. Plus, it smells amazing. Cut fun shapes with a cookie cutter and when they're dry, you can decorate them with acrylic paint.
Pompom Stuffed Ornaments
This craft is perfect for kids with short attention spans. The whole craft takes no more than five minutes to put together before it's ready to hang on the tree.
Fingerprint Olaf Ornament
Do you have Frozen fans in your house? Delight them by making this cute Olaf ornament using their fingerprints.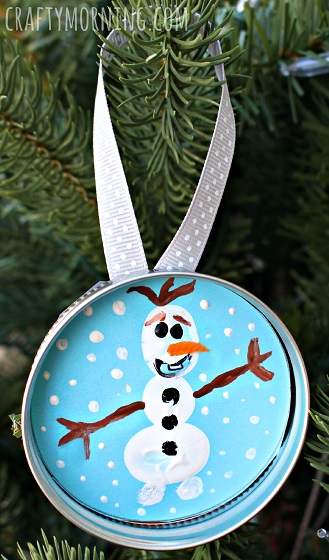 Popsicle Stick Snowflake Ornaments
Using a few colored popsicle sticks, you can make these cute snowflake ornaments. Each kid can customize their own, making them as unique as real snowflakes.
Pompom and Pinecone Ornaments
If you have pinecones in your area, you can make them into simple ornaments. All you need are tiny pompoms, hot glue, and a ribbon to hang them.
Beaded Candy Cane Ornaments
Another quick and easy craft. Using beads and pipe cleaners, kids can make their own candy cane ornaments in a few minutes.
S'more Ornaments
Does your family love camping? Make s'more ornaments to go on your tree. The best part is, they use items you have at home, like cardboard and cotton balls.
Gingerbread House Ornaments
You can make these adorable gingerbread house ornaments with popsicle sticks and a few other craft supplies. It requires a bit of time to assemble, so it's better for older kids with more patience.
Melted Bead Ornaments
You can make beautiful ornaments by melting pony beads inside cookie cutters. You will need to use an outdoor toaster oven due to the plastic fumes.
Take an afternoon and have an ornament-making session, complete with cocoa and cookies. When you've finished the crafts, hang them on the tree for all to see. Don't forget to put the date on the back of the ornament and take pictures of your kids with their creations!